Bahraini Women Entrepreneur Excellence Award
I am proud to receive the "Bahraini Women's Excellence Award", which is the dream and goal of every Bahraini entrepreneur.
On this occasion, I extend my thanks to Her Highness Princess Sabeeka bint Ibrahim Al Khalifa, wife of His Majesty the King and President of the Supreme Council for Women, may God protect and protect her, and all those in charge of this event in carrying good tidings and blessed achievements that made all the people of Bahrain happy. In this special moment, I cannot describe my happiness and gratitude for the support and appreciation given to me by honoring me. May god bless me with the will and determination to continue giving and honesty to the fullest and I thank all those who supported me, especially my parents.
Each place has a unique imprint!
There is a special voice for every place, and we need to listen attentively to be able to understand it. Only then we will be able to find the harmony between the person and the space around it, which also leads to more serenity and productivity.
When we have a connection with the place we are in, creative ideas will flow smoothly, and it will be an inspiring and interactive atmosphere.
When we create a unique experience in any project, we look at two factors:
The Place & The Human …
Understanding the place with its features and the person goals and needs, will definitely create a connection that will change the place from a calculated area to a source of productivity and inspiration.
To leave a unique imprint is the solid foundation on which we have built our company, Fatima AlAnsari (FA).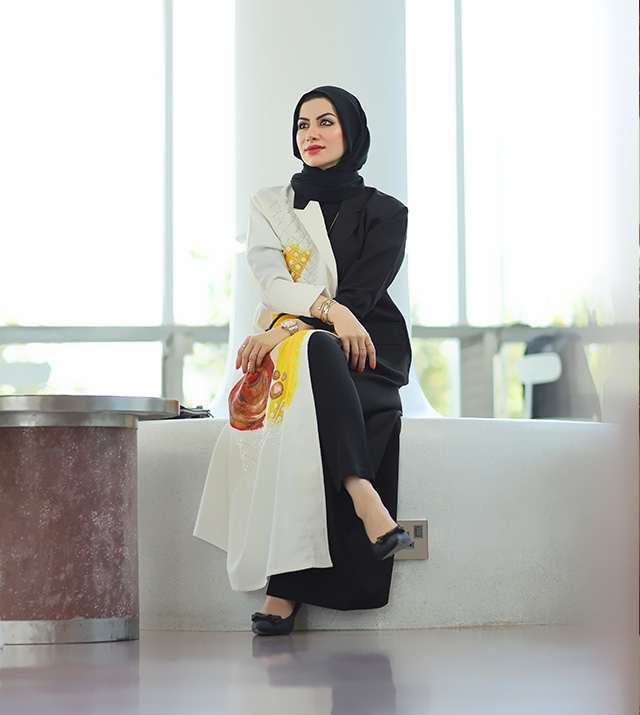 FA Story
Her Passion for arts and design led her to study Interior Design. It is a known fact that when you love something, you excel in it. This is indeed what happened with Fatima AlAnsari; she excelled in her studies, but it never stopped with that. She has achieved an exceptional career path after her graduation from the University of Bahrain.
Fatima AlAnasri started with her partners two offices, that soon got a very good reputation because of the outstanding and professional projects, and her deep understanding to what the clients really want.
With such experience, it was about time for AlAnsari to start her own project, which carries her own name. She wanted to establish her own imprint in the market. Indeed, her office is famous all over the Gulf region.
It was established in 2016, and it provides full services, in the field of interior design and projects supervision, to ensure that the client is being served under one umbrella organization.
Fatima AlAnsari is aspiring to create a high-level design culture, starting with the work environment at the office; she has founded an organized work system which follows all quality standards, understanding the client, and paying attention to all the details of the project.
The team is highly professional and creative; hence we have a productive environment that is sustainable and ready to take challenges.
She supports local workforce by giving them the opportunity to learn and take part in different projects in order to obtain the needed experience and skills.
Her work exceeds the limits of her office; it goes further to local, regional and international events. She considers participation in international exhibitions and educational events as a crucial part of her work and message.